Whether your insurance plan coverage is with Manulife Financial, Great West Life, Standard Life or Sun Life Financial – it is important to know what you are entitled to when it comes to your benefits.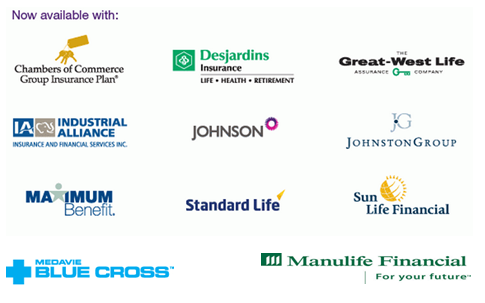 NTO Wellness and Rehab Centre welcomes premium health insured clients and would encourage you to maximize the benefits offered to you from your employer.
Please do not hesitate to let us know how we can accommodate your premium health coverage and tailor a treatment plan that works best for you so that you can find the time to use your benefits.
As a corporate employee you have access to premium health insurance for some of those paramedical professional services that would otherwise be extremely expensive.
Having an extended health benefit plan with a company like Manulife Financial, Sun Life Financial or Desjardins enables the average person to be able to afford these proactive and paramedical health services.
The process for having electronic funds transfer set up directly to the insurance company or even claiming funds back right after the treatment of  these proactive and medical services is pretty straight forward as long as you ensure that the paramedical service you are about to receive or received is covered.
What is covered and at what percentage  is covered can be found in your corporate benefits handbook – so be sure to review this handbook before you book that appointment with NTO Wellness and Rehab if you plan on claiming back using your premium or extended health coverage plan with any of the companies listed above.
LET US HELP YOU IN DEALING WITH YOUR MVA CLAIM
Now in the case of the insurance plan you may have with your Auto Insurance Company for motor vehicle accidents (MVAs), personal injury as a result of an accident leading to short disability, the process becomes a little bit trickier.  Between the MVA claims officer, adjustor and your need for medical help, not to mention the pain and discomfort you may be facing due to the motor vehicle accident (MVA) – we understand that this can be extremely stressful, difficult and frustrating.
NTO Wellness and Rehab Centre can assist you with this otherwise stressful and emotional taxing process so that you may still receive the rehab and recovery treatment your body needs as you need it from NTO Wellness & Rehab, as our Frontdesk Staff bring over 5 years of experience in effectively dealing with MVA  cases.
In Ontario, according to The Insurance Act, cost for medical rehabilitation care due to car accident will be covered by insurance company either through Auto Insurance or Extended Health Care Insurance if applicable. At NTO Wellness & Rehab Centre, our experienced administration team will assist patients and offer services in direct billing and handling complicated paper work through insurance company.
Completion of insurance forms:
OCF 1
OCF 3
OCF 18
OCF 23, 24
NTO Wellness and Rehab Centre is also in partnership with group of specialists offer additional services for car accident victims:
Home Site Assessment
Job Site Assessment
Psychological Assessment and Driver re-integration
Attendant Care Assessment
Functional Capacity Evaluation
Work Conditioning/Hardening Programs